Foley is a Portland-based artist who enjoys creating digital illustrations and comics, as well as working with paint and ink.
They are also ace at designing and building spaces and solutions to make people's homes and lives better, through clever concepts and solid carpentry.

LOVE BETWEEN BEASTS.
The Vikings knew women to be strong, independent creatures, worthy of respect and admiration, capable of great feats of courage.
But Fen is not among her people.  She's lost after a raid gone bad, alone in a country that wants to kill her.
Eleanor will protect her.  But what protects Eleanor?
Against the Tide: A Hudson Sisters Novel
THE ONLY THING THAT COMES EASILY TO THESE GIRLS IS TROUBLE.
Zoe Hudson's life is far from perfect, but her job diving for marine salvage keeps her busy and makes it easy to forget her failed search for her missing father. An unexpected call from her estranged mother forces Zoe to make a choice that will forever alter the course of her life.
Nicole Hudson is content to quietly finish her senior year at Columbia University. Her world is thrown into chaos when her long absent sister, Zoe, shows up out of the blue just in time to whisk Nicole away from gun-toting thugs. Soon she is off on a globe-spanning adventure, far more dangerous than anything she could have ever imagined.
As the sisters search for sanctuary and answers, they are hounded by Tricia Case, a dangerous woman who believes the Hudson women hold the key to a stolen artifact. With her reputation crumbling and her career on the line, Case will stop at nothing to find what she is looking for.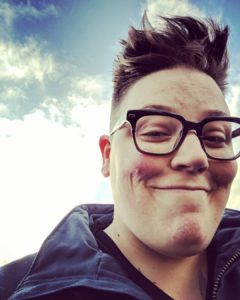 Foley grew up a Navy kid in the California Bay Area before migrating to the Pacific Northwest.
They have been a scenic painter for theater, an art teacher for juvenile delinquents, a manager for a sex shop, a plumbing specialist, a warehouse manager, a set designer, and a photography MC.
Those have been their jobs.
What they do is write, draw, paint, pet their cats, kiss their wife, and tinker with their Portland, Oregon home.
Foley is always available to discuss any projects you may have involving
ART

HANDIWORK

CARPENTRY

SHARKS